Dr Ramaprasad (Ram) Natarajan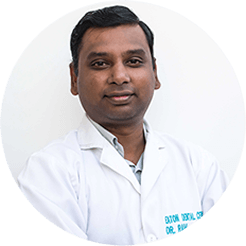 Dr. Ram was very interested in health sciences and followed his heart to dentistry. He completed his Bachelor in Dental Surgery in India in 1999 and has enjoyed practicing for nearly twenty years.
What Inspires Dr Ram
Dr Ram's drive comes from confident smiles and good, healthy teeth. He believes happy people smile naturally, yet people who don't feel good about their teeth hide their smiles, even when they are happy.
With Dr Ram's experienced skill set, he can restore patient's smiles and give them the freedom to eat what they like. He enjoys working with all kinds of people, from the elderly and the young, and has a particular interest in bridge work and root canals.
Lifelong Learning
The dentists at Eaton Dental Centre engage in 20-30 hours of professional development, mostly in the areas of root canals, crowns, bridge work and sedation. Our Eaton dentists are proud members of the Australian Dental Association.
When Dr Ram isn't helping people to have a confident smile, he likes to spend his time travelling, playing cricket and fishing.

Eaton Dental Centre | 08 9725 0844